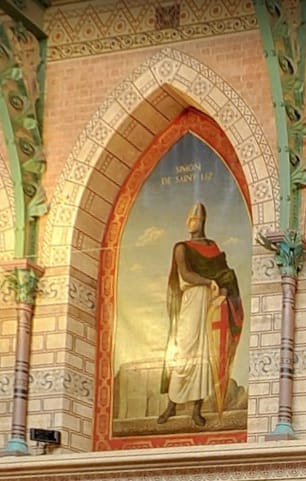 Simon de Senlis of Northampton
A Prominent Figure in Norman England
Northampton, a town steeped in rich history, owes much of its development and character to notable individuals who shaped its destiny. Among them, Simon de Senlis, a Norman nobleman, stands out as a prominent figure during the early medieval period. Rising to power through his strategic alliances and military prowess, Simon de Senlis left an indelible mark on Northampton, particularly through his fortification efforts and patronage of religious institutions.

Born in the late 11th century, Simon de Senlis hailed from the esteemed de Senlis family of Senlis, France. In 1066, he participated in the momentous Norman invasion of England led by William the Conqueror. The invasion, culminating in the Battle of Hastings, set the stage for Norman rule in England and marked the beginning of Simon de Senlis's ascent to prominence.

Quickly rising through the ranks of the Norman ruling class, Simon de Senlis was granted the titles of Earl of Huntingdon and Northampton. With these titles came significant responsibilities and privileges, including the stewardship of Northampton Castle. Recognizing the strategic importance of the castle, Simon de Senlis embarked on an ambitious endeavor to build and develop the castle as well as the town walls.

Under his guidance, Northampton Castle became a formidable stronghold, serving as a symbol of Norman authority in the region. Its impressive defenses stood as a testament to Simon de Senlis's influence and ensured the maintenance of Norman dominance over Northampton.

Simon de Senlis's role extended beyond military affairs. He actively patronized religious institutions, an act common among the Norman nobility seeking to secure their status and spiritual well-being. Notably, he founded the establishment of the Priory of St Andrew in Northampton along with one of the four remaining round churches in England, The Holy Sepulchre. He also contributed to other religious foundations, leaving a lasting impact on the city's spiritual landscape.

Simon de Senlis's legacy extended beyond his own lifetime. He married Maud, the daughter of Waltheof, Earl of Northumbria, forging alliances and strengthening his connections within England. Their descendants continued to hold the earldom of Northampton, ensuring Simon de Senlis's influence endured for generations to come.

Simon de Senlis's death in 1111 or 1113 marked the end of an era. However, his contributions to Northampton remained as a testament to the transformative impact of the Normans on England. From his pivotal role in the Norman Conquest to his fortification efforts at Northampton Castle and patronage of religious institutions, Simon de Senlis's influence shaped the region's destiny.

Today, as one wanders through the streets of Northampton, it is impossible to overlook the historical significance of Simon de Senlis's contributions. The grandeur of what was once part of Northampton Castle and the echoes of religious devotion in the city's architectural marvels stand as a lasting testament to this remarkable figure from Norman England. Simon de Senlis's legacy endures as a reminder of the enduring influence of medieval figures in shaping local history and the vibrant tapestry of Northampton's past.
Signup to our Newsletter
We'd love to share with you our e-newsletter, and keep you informed of what's going on in the church and community. If you'd like us to do that, and give your consent for us to contact you, click the button below and complete the signup form.
Subscribe to our Newsletter
Find us online