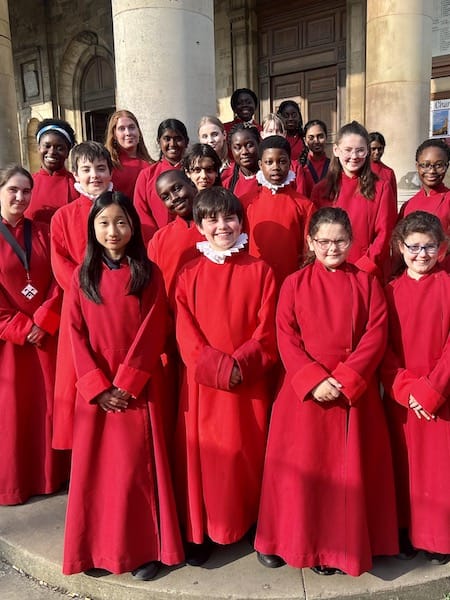 Become a Chorister
The combined choirs currently comprise a talented group of 45 youngsters hailing from 25 different schools. What sets our choir apart is that we provide these aspiring singers with a top-notch musical education at absolutely no cost. Admittance to the choir is open to boys and girls in year 3 and above, offering a fantastic opportunity for young talents to explore their musical potential.

We are proud to emphasize that membership in our choir comes with no financial burden. We firmly believe that every child, regardless of their religious, financial, or family background, should have access to this enriching experience.

Our audition process is designed to be welcoming and non-intimidating, aimed at helping your child shine in their performance. We're don't expect a finished product; we're looking for potential.

As choristers at All Saints', your child will embark on a remarkable journey of musical growth. They will have the privilege of learning a vast range of music under the expert guidance of our professional musicians. Additionally, we offer free singing lessons and music theory lessons to further enhance their skills and knowledge. Being a chorister goes beyond music - it fosters valuable life skills such as self-discipline, teamwork, and the ability to perform under pressure.

Our choristers also enjoy exciting opportunities and experiences. They have the chance to feature in recordings and showcase their talents in remarkable venues across the country. Moreover, our choir frequently embarks on international tours, recently visiting countries like Spain, France, Malta, Austria, Germany, Denmark, and the USA. We believe in recognizing and rewarding the commitment and dedication of our choristers, which is why we provide financial compensation for their attendance.

Lastly, being part of our choir means forging lifelong friendships. The bonds formed within the choir are enduring and create a supportive and nurturing environment for all members.

If you would like to learn more about our choirs or if your child is interested in auditioning, we encourage you to get in touch with our Director of Music. They will be more than happy to provide you with additional information and guide you through the audition process.
Signup to our Newsletter
We'd love to share with you our e-newsletter, and keep you informed of what's going on in the church and community. If you'd like us to do that, and give your consent for us to contact you, click the button below and complete the signup form.
Subscribe to our Newsletter
Find us online