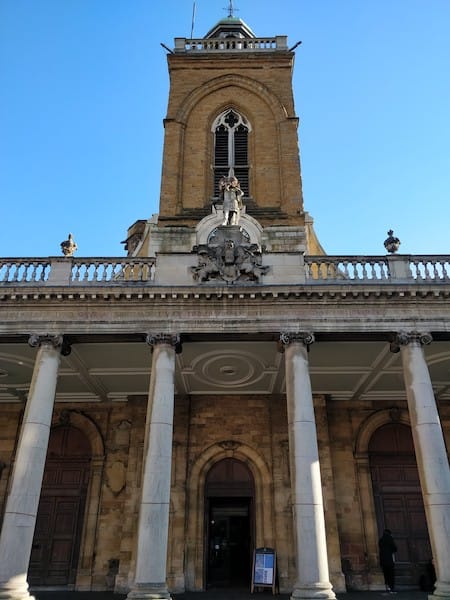 All Saints' Church brings God to his people and his people to God.
We are delighted to announce the launch of our newly updated website! After 15 years of faithful service, we have decided to introduce a fresh and modern look that aims to make information easier to find and enhance your browsing experience.

Within our revamped website, you will find a wealth of information at your fingertips. Discover upcoming events, delve into our rich music repertoire, explore the church's fascinating history, locate us easily, access contact information, and much more. We have strived to create a user-friendly platform that provides valuable insights and keeps you informed about current happenings.

All Saints' Church holds a special place in the heart of our historic market town, and represents the Church of England's presence here. As Northampton's Civic Church, our classical building proudly stands on the site of a magnificent Norman Church. All Saints' Church caters to the needs of a bustling town with over 243,000 inhabitants.

We extend a warm welcome to all visitors throughout the year. Whether you come to admire the beauty of our church, participate in our services, or be enthralled by the melodic voices of our renowned choirs during one of their regular Choral Services, there is something for everyone. Additionally, we regularly host recitals, including the popular "Lunchtime Live" summer series, which has captivated audiences for many years.

Join us for our regular Sunday and daily services, as well as the special celebrations and commemorations that honour the rich history of Northampton. We embrace visitors from all walks of life, eager to share our vibrant community and spiritual sanctuary. Our building is fully wheelchair accessible, and we provide convenient lavatory facilities at the north end of the Narthex.

We invite you to explore our new website and uncover the remarkable features and choirs that make the Church of All Saints so exceptional. Immerse yourself in our virtual space, and we hope it sparks your curiosity to visit us in person soon.

Thank you for your continued support, and we look forward to your presence at All Saints' Church.
What's happening
This Week
Commencing Sunday 3rd December 2023
Available to download, this week's Pewsheet.
(PDF format. Document will open in a new tab)
.
Download...
Lunchtime Live!
Thursday 7th December 2023 at 1:10pm
Lunchtime Live will return with an organ recital given by Richard Tanner of Rugby School. He will be seasonally performing the spectacular
La Nativité du Seigneur
by Olivier Messiaen.
More Lunchtime Live
Next Sunday - Advent II
Sunday 10th December 2023
8:00am
Holy Communion (BCP 1662)
9:15am
Morning Prayer (Chancel)
10:30am
Choral Eucharist (Nave)

Festival of Nine Lessons & Carols
Sunday 17th December 2023 at 6:00pm
Traditional Christmas readings interspersed with choral music and congregational carols. We'll open the Nativity Scene that evening, ready for the carols, but there'll be a notable absence until Christmas.
Find out more...
Sunday 24th December 2023 at 11:30pm
Christmas Eve, our church will begin the season of Christmas with Midnight Mass. In this service, the figure of the Christ-child is laid in the Bethlehem Manger, and the Nativity scene opened and blessed, where it will remain for our devotions and prayers until the coming of the feast of Candlemas in February - a reminder the Christmas is not just for Christmas.
Monday 25th December 2023
8:00am
Holy Communion (BCP 1662)
10:30am
Choral Eucharist (Nave)

All Saints' Ministry Fund
Our online giving campaign
All Saints' Choir Zaragoza Tour 2023
The All Saints' Choir will be touring Zaragoza in Spain this year. If you would like to find out more or make a donation towards the choir tour, visit the Northamptonshire Choral Foundation JustGiving page. (Tour fundrasing closes on 31/12/2023)
Visit JustGiving
Castle Hill Church Foodbank
Our collections for Castle Hill Church Foodbank continue; thank you for your continuing generosity. They especially request children's cereals, long life milk, brown & white long grain rice and microwavable food (non- perishable).

We're grateful to Kim Zambo who has kindly agreed to take on this duty.
Signup to our Newsletter
We'd love to share with you our e-newsletter, and keep you informed of what's going on in the church and community. If you'd like us to do that, and give your consent for us to contact you, click the button below and complete the signup form.
Subscribe to our Newsletter
Find us online