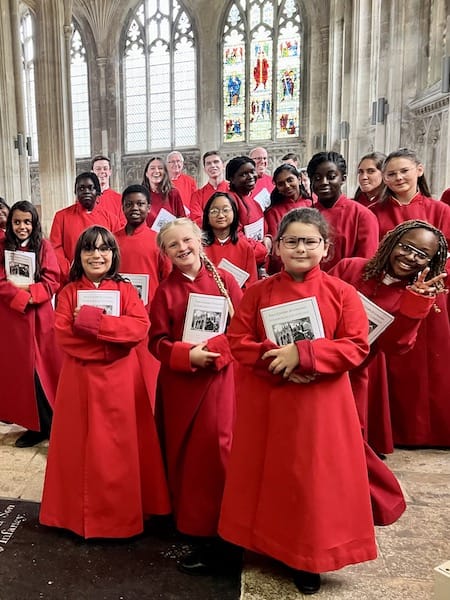 The Choirs
Historical records from 1388 indicate that All Hallows' Church in Northampton held four daily services, two of which were sung by a choir of Boys and Men. All Saints' Church, the present magnificent structure erected on the former site of All Hallows' after its destruction in the Fire of Northampton in 1675, proudly carries on this tradition.

The choirs, comprising three distinct groups (senior choristers, junior choristers, and adult/teenage choral scholars), contribute to at least three fully choral services each week in various combinations. The Seniors sing Choral Evensong on Wednesdays, while the Juniors do the same on Thursdays. Either the Juniors or Seniors, accompanied by the Choral Scholars, sing for Choral Eucharist every Sunday at 10:30am, presenting a different choral mass setting and anthem each week.

As the official choir of Northampton's Civic Church, they also hold a central role in significant town events such as Remembrance Sunday, the High Sherriff's service, and the Mayor's Charity Service annually.

Additionally, the choir maintains a busy schedule beyond All Saints'. In recent years, the choirs have showcased their talents at various cathedrals, including Gloucester, Peterborough, Ely, Lichfield, Worcester, Leicester, as well as prestigious institutions like Jesus College Cambridge, Wadham College Oxford, and the Chapel Royal at Hampton Court Palace.

Internationally, the choir also enjoys a busy presence, most recently in a 5-day concert tour of Spain in 2023. In 2019, they embarked on a tour to Poitiers, France, commemorating the 40th anniversary of the town twinning. In 2017, the choir spent five days touring in Malta and Gozo.

Many former members of the children's choir have pursued musical careers, with some securing Lay-Clerkships at cathedrals such as Peterborough, Ely, and St Alban's. Past Directors of Music from the choir can now be found in prestigious positions at Carlisle Cathedral, Rugby School, and both St Paul's and Westminster Cathedrals in London.

Entrance to the choir is open, by audition, to children from year 3 and up.

If you wish to enquire about joining the choir, contact the Director of Music, Jem Lowther.
Signup to our Newsletter
We'd love to share with you our e-newsletter, and keep you informed of what's going on in the church and community. If you'd like us to do that, and give your consent for us to contact you, click the button below and complete the signup form.
Subscribe to our Newsletter
Find us online